Make Your Kitchen Count For HEALTH!!
Every bite of food you eat and every gulp of liquids that
you swallow either IMPROVES you health or HARMS you!
It's that simple. Even the Bible says so much in Gen 1:29,
Gen 2: 9 a and Ezekiel 47:12 b and this has been supported by scientific
research.
So, stop feeding yourself and your loved ones the wrong
things and start eating the right things for you and your family and make your kitchen count for health starting now.
LEARN THE SIMPLE and inexpensive TECHNIQUES on how to do so
with
THIS PUBLICATION
for the HOME AND FAMILY!!!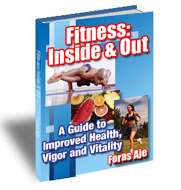 ======================================
HERE ARE SOME OTHER HELPFUL RESOURCES