Don't let the cold be an excuse to not get in AND stay in
shape.
This digital book shows how you can work out in 30 minutes or less in
the comfort of your own home.
In fact, the warm up exercise for the one of the
Fitness routines in this book has been said to
be the best way to burn calories
and reduce weight and is often recommended for obesity and depression.
(
We are talking about the Yoga
Sun Exercises which virtually anyone can and should do…)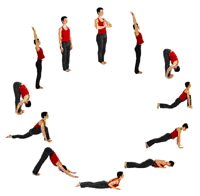 Even
if Yoga may not be of an interest to you, then feel free to look up the other
body-weight exercises in this program and feel free to pick up what is best for
you.
The
bottom-line is you can always work out and eat right AT HOME even if it's cold
out to get in and stay in shape.
LET
THIS TUTORIAL SHOW YOU HOW…