Christian Marriage Counseling
What Are The Purposes?
This form of counseling is a measure designed to aid couples in troubled relationships to learn how to understand one another and perhaps even God better.
(To Avoid sounding repetitive, The caption will hereby be replaced with the acronym CMC)
CMC makes it clearer and easier to see what God desires for marriage in the Christian viewpoint.
Now these days, the need for marital counseling for Christians cannot be emphasized enough. This is because we live in a world that views divorce as an almost common process. Divorce is so prevalent these days, it is almost frightening. Being a Christian, it is so easy to see the intrusion of an enemy on the prowl to dissolve the Christian Marriage institution, and the use of subtle to very clear methods of accomplishing this is markedly obvious, which is why CMC could serve as a much needed tool to save the institution of marriage.
CMC: The Main goal is to fix the Problems at hand.
This should be used to address marital problems and issues and this in a timely manner. This will make this tool all the more effective as encumbrances and strains in a Christian marriage can now be made reduced.
CMC seeks to address problems and issues.
Like every kind of marriage, Christians do experience marital problems, but thankfully, a Christian marriage may perhaps be one of the few ones to have the means to solve them.
Consequently, it is of uttermost importance to deal with a problem as soon as it starts to deter its growth into a bigger issue. This is where Christian Marriage counseling comes in: It targets those problems AND shows how to possibly solve them…and quickly.
Now, self-denial and perhaps pride is oft-times the root of most problems in a Christian marriage. Why, with one spouse refusing that the marriage needs counseling while the other suggests it emphatically, it is enough to aggravate issues. However, by self-examination and a little bit of 'letting-go', one will actually find out that the use of cmc is actually a wise and godly thing to do.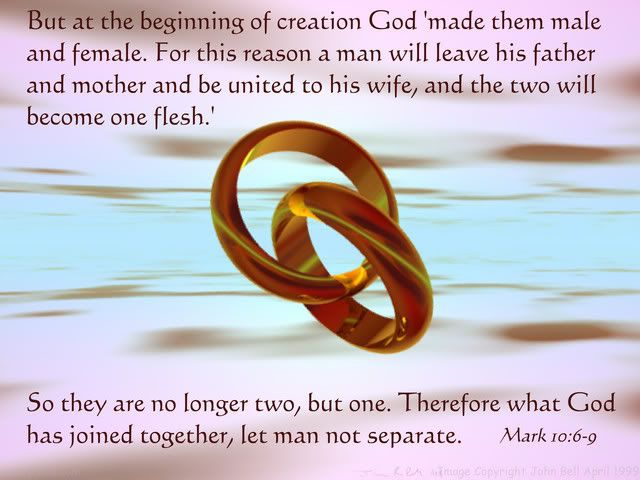 Problems may also occur in a Christian Marriage from lack of communication between both spouses. These in themselves could aggravate such unwanted results such as lying, infidelity, emotional wounds, mental conditions, etc. Consequently, communication (intellectually, physically and emotionally) is key and a much stressed tool in CMC to keep such threats to the marriage at bay.
God's Principles of Marriage
There are specific biblical verses that illustrate God's Principles in regards to the marital institution. Along these lines, it becomes clear that CMC will help a couple refocus on God's will for marriages.
In this day and age with the constant intrusion of the mass-media and, it's easy for us to get distracted and lose sight of what and who is important. In addition to helping us find solutions to problems and issues, Christian counseling can provide marital and relationship-building techniques and provide a road-map of some sort to having a successful and more importantly happy marriage.
As with any subject in our lives, we can learn principles from God's Word that will remind us in days to come of God's ideals for husbands and wives. Needless to say CMC shares and encourages these precepts as will be illustrated in the verses below: (Ephesians 5:21-33)
5:21 subjecting yourselves one to another in the fear of Christ.
5:22 Wives, be subject to your own husbands, as to the Lord.
5:23 For the husband is the head of the wife, and Christ also is the head of the assembly,
being himself the savior of the body.
5:24 But as the assembly is subject to Christ, so let the wives also be to their own husbands in everything.
5:25 Husbands, love your wives,
even as Christ also loved the assembly, and gave himself up for it;
5:26 that he might sanctify it, having cleansed it by the washing of water with the word,
5:27 that he might present the assembly to himself gloriously,
not having spot or wrinkle or any such thing;
but that it should be holy and without blemish.
5:28 Even so ought husbands also to love their own wives as their own bodies.
He who loves his own wife loves himself.
5:29 For no man ever hated his own flesh; but nourishes and cherishes it, even as the Lord also does the assembly;
5:30 because we are members of his body, of his flesh and bones.
5:31 "For this cause a man will leave his father and mother,
and will be joined to his wife. The two will become one flesh."
5:32 This mystery is great, but I speak concerning Christ and of the assembly.5:33 Nevertheless each of you must also love his own wife even as himself;
and let the wife see that she respects her husband.
The husband should fulfill his marital duty to his wife, and likewise the wife to her husband.
Wives, submit to your husbands, as is fitting in the Lord.
Husbands, love your wives and do not be harsh with them.
4:12 Though one may be overpowered, two can defend themselves. A cord of three strands is not quickly broken
Ecclesiastes 9:9 Enjoy life with your wife, whom you love, all the days of this meaningless life that God has given you under the sun– all your meaningless days. For this is your lot in life and in your toilsome labor under the sun.
May your fountain be blessed,
and may you rejoice in the wife of your youth. A loving doe, a graceful deer–
may her breasts satisfy you always, may you ever be captivated by her love.
Proverbs 31:10-12 A wife of noble character who can find? She is worth far more than rubies. Her husband has full confidence in her and lacks nothing of value. She brings him good, not harm, all the days of her life.
Granted we live in a world now where most ideals and precepts ordained by God seem ignored…sadly to our own peril however, using these verses as yard-sticks it may be time to assess your own marriage. Does your relationship need realignment? Are you and your spouse following biblical guidelines?
Covering the pre-marital stage
In this day and age, it will be an understatement to say that is correct.
Imagine after several months of marriage all of a sudden the spark that once existed in your marriage now seems faded. Little things you thought were cute or trivial now seem to exasperate you. Your spouse seems to not be as loving and affectionate as when you were first married. Arguments seem to rear up from nowhere about money being 'tight", you know the drill.
These little occurrences naturally can make any couple or parties involved in a marriage start to doubt and wonder if a mistake may have been made.
Considering that marriage is a union of two individuals who have come from different families and backgrounds each with a different set of expectations concerning marriage. It could become quite tasking to see eye-to-eye on certain issues in regards to marriage, Christian or otherwise. Handling of conflicts, financial management, choice of the place of worship, procreation etc…these all become difficult issues to deal with and sadly have and continue to threaten many a marriage, hence the need for pre-marital advice which may best be found in a Christian marriage counseling session.
At the moment, (and quite sadly) a little over half of all first marriages end in divorce. Couples that marry without having premarital counseling are at much higher risk of divorce. Those who have prepared for marriage by getting some secular (non-Christian) premarital counseling are better off than those who have had no preparation for marriage at all.
However, a Christian pre-marital counseling before Marriage has a different edge: spiritual binding. Many forms of premarital counseling might give instruction in dealing with basics, such as finances, child rearing, and even basic communication skills. However, secular premarital counseling will not provide the spiritual bonding factor that will help couples deal with conflicts that may follow or come as a result of dealing with issues within ones marriage.
CMC for premarital purposes possesses a firm foundation or base and is often offered in churches that offer other forms of counseling. It is designed to teach couples about the truth about marriage, according to the Bible and this in turn leads to a more successful and fruitful Christian marriage in itself.
It is without a doubt important to seek Christian premarital counseling as God's Word teaches that marriage is a bonding between a man and a woman and it is supposed to last for life. CMC teaches how to make this covenant work as all will be based upon an unconditional commitment that this union will last for life (as in till death do us part!)
Things to Expect in a CMC Session:
Since professional and pastoral counselors are taught in different kinds of schools for counseling, there are several approaches they might take. Depending on the method of your specific counselor, here are some things to expect during counseling.
1. A thorough assessment by the counselor.
Your counselor will attempt to assess the current problems thoroughly; consequently both the husband and wife should be ready to discuss specific issues at hand all the time being as honest and precise as possible.
Moreover, your counselor will be watching to see how effective the lines of communication are in the marriage to help you both in forming better habits of interaction.
2. A discussion on techniques for Conflict Resolution.
Your counselor may want to discuss and discern how to improve on or establish better methods of handling disagreements within your marriage. Don't be surprised if separate sessions are set-up as this enables you to address the issues in regards to conflict resolution much more effectively.
3. An Exploration of Your Family Histories:
Your counselor may also explore you and your spouse's family histories to establish where bad patterns of relating may stem from. This method helps them uncover the cause of faulty behavioral patterns and helps people learn better habits of living in general.
4. Teaching Methods on Giving and Receiving Forgiveness:
Needless to say, a very important aspect of true love is learning how to give and receive forgiveness, so expect your counselor to show the steps on how to go about accomplishing this. Any two people living together are bound to offend each other at some point, and whether small or large, offenses do create barriers. As a result learning how to forgive each other for errors definitely is a technique your counselor will be sure to address.
5. Homework!
Did you think homework ended when you left school? No.
Expect your marriage counselor to help you set some achievable goals to attain and to give you "homework" – assignments of some sort which will reinforce or apply what was discussed during the counseling session.
6. Prayer in a CMC Session.
If you attend a CMC session, your counselor will want to pray for you and your spouse and may ask you both to pray more for the marriage. He will also bring biblical teachings into his advice and may ask you and your spouse to study relevant Bible passages as illustrated above
In spite of all of this, be aware that counselors are not always right. Remember, they are humans who perhaps work at their own marriages themselves so don't be afraid to question their evaluations. You might need to reexamine and clarify some aspects of the counseling. However, remember a counselor is often well trained to recognize behavioral problems, so be open to his or her advice and notes about yourself and your marriage.
In the end, the success of your marriage counseling does depend on the willingness of you and your spouse doing what may be essential to work out the problems separating you both, but with the help and insight your counselor may bring, achieving this success is very, very possible.
Consider the following resources to help in your journey:
Save Your Christian Marriage
Click Here!

Sex Satisfaction For The Christian Wife
Click Here!
BetterSex4Christians.com
Click Here!
Marriage Makeover, Mend Your Marriage, Make It Better Than Before
Click Here!
OTHER USEFUL eBOOKS




Are you and your spouse looking for fun ways to stay in shape?
Then why not try our very own e-book on Fitness: Inside & Out by Foras Aje.
With a combination of Yoga, Body-Weight Exercise, Customized Dietetic Instructions and Tools for Enhancing Positive Thinking Habits, you and your spouse will be well on your way to improved health, vigor and vitality…a much needed part of a happy married life.
FEATURED VIDEO: Abdominal Exercises: Leg Raises
"Successful and unsuccessful people do not vary greatly in their abilities. They vary in their desires to reach their potential."–John Maxwell
++++++++++++++++++++++
This article is written by Foras Aje, an independent researcher and author of "Fitness: Inside and out", which provides tips on how to improve and maintain your health using all natural methods. For more information on these guidelines: