Here's what's going on in Christian-Related News:
In our first story:
Manny Pacquiao Is Banned from L.A Shopping Center for "Gay Hate Speech"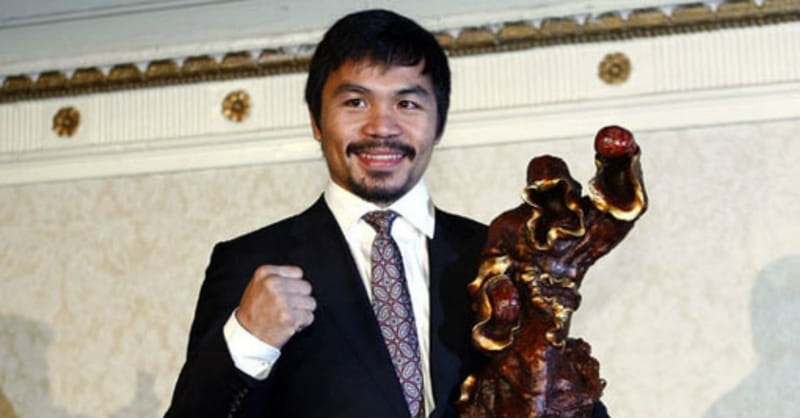 According to TMZ Sports,
Manny Pacquiao
has been banned from the popular L.A. shopping center The Grove — again — all because of what the Grove has labelled as "statements of hatred" against gay people .
Now, the rift between the Grove and Pacquiao started in 2012 … when Manny was banned over an interview in which he reportedly quoted Leviticus 20:13 which says: "If a man lies with a man as one lies with a woman, both of them have done what is detestable. They must be put to death; their blood will be on their own heads."
The Grove later reversed the ban when they claim they learned Manny had been "misquoted.
However, Pacquiao, an avowed Christian who is currently in the Filipino House of Representatives and is running for a Senate seat, shared his views on homosexuality when candidates were asked in 2016, about the topic of Gay marriage,
He said, as a Christian, he cannot support Gay Marriage, then said: "It's just common sense, Have you seen any animal having male-to-male or female-to-female relations?"
Since even animals do not have homosexual relationships, Pacquiao stated, "if you have male-to-male or female-to-female (relationships), then people are worse than animals."
Now, of course this statement drew criticism from the LGBT Community, their allies and the Liberal Media, and Manny, lost his Endorsement with the sport apparel co., Nike and let's just say HBO pretty much tried to distance themselves from him in a recent statement.
With that being said, FFWD to this week (ending Saturday, March 19, 2016) … when Manny and his 16 person entourage went to the shopping center for a movie, the people in charge at the Grove saw Manny on the property … and after he left, decided they don't want him to come back.
In referencing his comments from early on this year, the owner of the Grove, Rick Caruso stated: These are statements of hatred. A lot of people from the gay community come to The Grove and they have a right not to feel uncomfortable. Manny Pacquiao is no longer welcome."
==============================================
Now, on to story #2:
Candace Cameron Bure Claims Criticizing Her and
Her New Show Does 'Not Represent Jesus Well'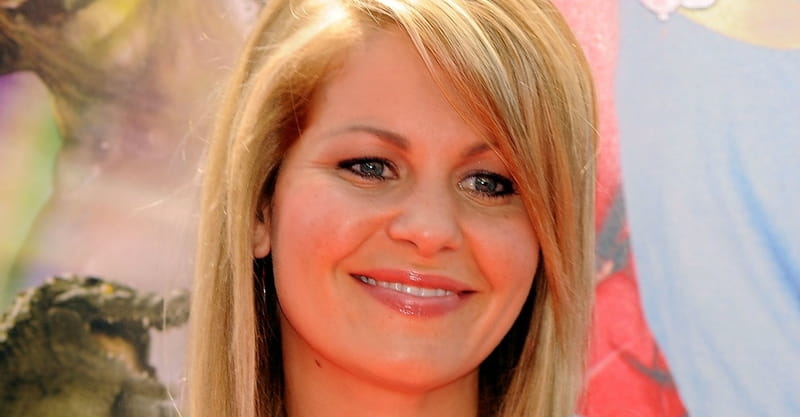 Now, after drawing criticism for some for her performance on Fuller House, Candace Cameron Bure told critics they weren't "representing Jesus."
She posted the following on her Instagram page: ""This is getting ridiculous!! STOP having religious debates about me and my family on my comments thread after EVERY single photo I post when they have nothing to do with the picture!"
"If someone makes a rude or negative comment, ignore it! You're feeding and driving the negativity. This is NOT productive or respectful conversation. And I'm talking to BOTH sides! It's getting old and downright ugly. This does not represent Jesus well. Let's encourage one another as well as take the debates to a private page. Please and thank you," Bure said.
Now, it should be noted that fans and critics have taken to Bure's Instagram page to debate her Christian values after her new series, Fuller House, released at the end of February on Netflix.
Some have said the show was a "disappointment" and a step away from her Christian values.
However, Bure claims that the show is modern but still family-friendly.
Her statement: "Tonally, the show is very much the same, but it's updated. I'm sure a few of the jokes are a little bit racier now than they would have been in the '90s, but it's still nothing that's inappropriate or that you would feel uncomfortable watching with your kids. We're three grown women, and I have to say, we're all pretty good-looking, too. [Laughs] We have some cute guys on the show, too, so that's fun."
===========================================
Story Number 3:
A Leading Physician says Babies Can Feel Pain of Abortion at 20 Weeks
Now, ladies and gentlemen, according to Life News, Dr. Colleen A. Mallory, a professor of neonatology at Northwestern University's Feinberg School of Medicine, said that doctors use pain medication for babies at 20 weeks because scientific literature points to babies' ability to feel pain at that age.
Mallory said, "The standard of care for NICUs requires attention to and treatment of neonatal pain. There is no reason to believe that a born infant will feel pain any differently than that same infant if he or she were still in utero."
She goes on to add: "I could never imagine subjecting my tiny patients to a horrific procedure such as those that involve limb detachment or cardiac injection."
Mallory's comments were made in support of the Pain-Capable Unborn Protection Act, a piece of legislation that would ban abortions after 20 weeks of gestation. The Senate is currently considering the legislation.
Now it should be noted that previously, 24 weeks of gestation was considered a baby's viability point. However, babies are now surviving outside the womb as early as 20 weeks.
The babies "are moving, reacting, and developing right before our eyes in the neonatal intensive care unit," Mallory said. "Given these survival numbers, the NICU commonly cares for infants born in this gestational age range. We can easily witness their humanity, as well as their experiences with pain."
To conclude this story, it should be noted that thus far, twelve states have adopted the Pain-Capable Unborn Protection Act.
============================
Franklin Graham Urges Christians to Vote for 'Candidates Who Uphold Biblical Principles'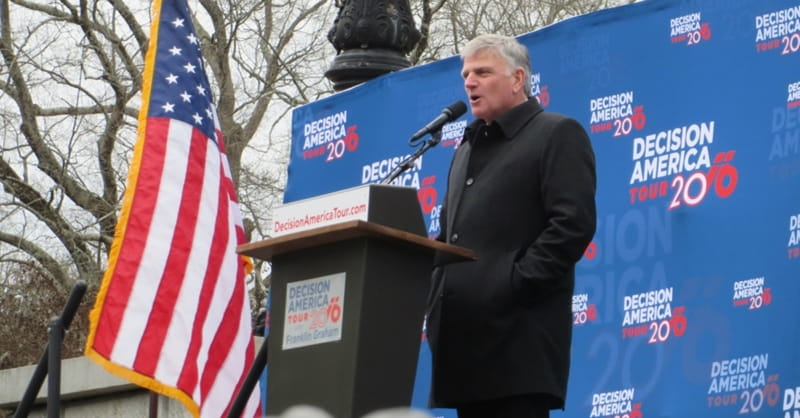 It is being reported by Charisma News that Rev. Franklin Graham has urged Christians to get out and vote "for candidates who uphold biblical principles."
Very tellingly, during his "Decision America", Rev. Graham stopped in Denver on Tuesday where he spoke to around 10,000 people, urging Christians to work to have a political presence in their neighborhoods and in the nation in general:
His statement: "I want to strongly urge Christians to run for public office at every level,"
Now, it should be noted that Graham said in an interview with CBN News that he believes both the Democratic and Republican parties are broken, and he is no longer affiliated with the Republican party, but he urged Christians to vote for candidates who best support biblical principles.
Graham has also started a pledge that Christians can sign to commit to God as well as their country.
To conclude this story on Graham, he told the crowd: "America is at a moral tipping point,  Our jobs as Christians is to make the impact of Christ felt in every phase of life: religious, social, economic and political."
=================================================== .
LA Based Christian Ministry Warns That the City's New Transgender Council May Threaten Religious Freedom
To delve into this story, new reports are showing that the city of Los Angeles has recently formed a new council to advise city officials on issues pertaining to the transgender community.
Now, while some people are praising the creation of the council as a victory for human rights, others, like the Christian ministry Focus on the Family, are warning that the council may restrict religious freedom rights.
On the side of the LGBT community, the city's Mayor Eric Garcetti explained that the council was formed to give the transgender community a voice in the city.
Here's Garcetti's statement: "Today, the City of Los Angeles sends a clear message to transgender Angelenos: your voices matter and your experiences count. The nine members of our Transgender Advisory Council will bring a new and important perspective to City Hall that will help empower trans Angelenos to lead stigma-free, productive, and meaningful lives,"
However, on the conservative side, "Focus on the Family", is quite unsure that the creation of the council is a positive thing for the city.
Here's a statement from Jeff Johnston, the Issues Analyst at Focus on the Family: "In creating this Transgender Advisory Council, the Mayor of Los Angeles and the city's Human Relation Commission are setting the city on a course where fundamental human rights will be cast aside for the sake of furthering transgender ideology."
"In recent years, there has been a strong push at all levels of government to give special privileges based on 'gender identity and expression, and these special privileges often conflict with basic individual rights to privacy, safety and religious freedom."
=========================================
So, what do you guys think about any of the topics covered today?
What do you think about:
Manny Pacquiao Being Banned from the LA Grove for so-called "Gay Hate-Speech"
Candace Cameron Bure Claiming Criticizing Her and Her New Show Does 'Not Represent Jesus Well'?
The Physician who says Babies Can Feel Pain of Abortion at 20 Weeks?
Franklin Graham Urging Christians to Vote for 'Candidates Who Uphold Biblical Principles'
The Christian Ministry warning that L.A.'s New Transgender Council May Threaten Religious Freedom
Let's get the conversation started, drop your comments and thoughts below…
This is Foras with Christian News Talk wishing you all a blessed day.
==================================================================