At this stage, it should be noted that in the books of Leviticus and Deuteronomy, God reveals His laws concerning what kind of meats are clean and unclean for food. His servants are commanded not to eat any unclean meat. In both of these books, there are chapters on clean (proper, safe) and an unclean (improper, unsafe) meat, in which God explains a fundamental distinction regarding animal flesh. Very tellingly, this distinction is the same as that which Noah understood about the animals that he took into the ark.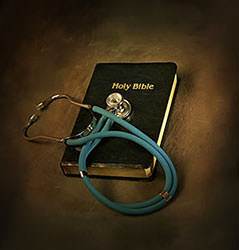 Upon a simple read, it becomes apparent that Leviticus 11 and Deuteronomy 14 identify which categories of quadrupeds, fish and insects may be eaten. (By the way, quadruped means "four feet" (from the Latin quad for "four" and ped for "foot"). The majority of quadrupeds are vertebrate animals, including mammals such as cattle, dogs and cats, and reptiles, like lizards.)
God's instruction is definite in both instances and leaves no room for personal interpretation. (Very much so the same way He has stated his stances on a lot of things like, swine eating, incest, bestiality, etc) The Bible repeatedly records God stating that certain animals are "unclean to you." Sometimes He adds, "You may not eat of them." Other times He says, "You shall not eat any abominable thing," and still other times He says, "They shall be an abomination unto you." (Certain translations use the word detestable in place of abomination.) Finally, He often commands not to even "touch their dead carcass."
If you simply take the time to read these two chapters carefully, you will notice how many times God repeats Himself for emphasis of importance. Hence, there can be no mistaking the clarity of His instructions and laws.
These chapters give examples from each of these three categories. Twenty examples of birds are given, but only of those that may not be eaten (Lev. 11:13-19). Reptiles (vs. 29-30), vermin (vs. 41-42) and other creeping things may not be eaten—except certain jumping ("leaping") insects (vs. 21-22). In addition, many kinds of fish are declared as clean and many kinds of fish and sea creatures are not.
Folks, it should be noted that although Genesis 1:31 explains that everything God created "was good-it doesn't mean they were good for FOOD!
Moreover, that verse was stated when ALL animals were to eat plants as stated in verse 30 of that chapter: (30 And to all the beasts of the earth and all the birds in the sky and all the creatures that move along the ground—everything that has the breath of life in it—I give every green plant for food." And it was so.")
A simple observation of wild cats would show after the fall of man, that no longer is the case, some animals are still strictly herbivores, some are omnivores (and scavengers) some are carnivores (eat meat)
In regards to clean and permissible meat, it is essentially the flesh of animals that "chew the cud." This means they simply re-chew plant foods that they have already partially digested in some way. This method of absorbing the nutrients extracts the most benefit from vegetation like grass and leaves.
This process is called rumination as some animals have several stomachs and digest their food in stages. If you have ever seen a cow or other animal casually chewing then you have likely seen an animal chewing the cud and they are called ruminants.
These make up the land animals that can be eaten the way the Lord said with specific conditions. Clean foods are those which in their NATURAL STATE do not harm the human body and which man can use for his nourishment. Unclean foods are those which are unhealthy to consume and are poisonous to the body. The Bible discusses the topic of what foods are good and bad for Man to eat in Leviticus 11 and Deuteronomy 14.
Foras Aje is an independent researcher and author of "Fitness: Inside and Out", a book on improving physical and mental health naturally with a Bible-Based Diet and Exercise. For more information on this book or other natural health tips, visit his site at http://www.bodyhealthsoul.com/
"When I hear somebody sigh, 'Life is hard,' I am always tempted to ask, 'Compared to what?'"- Sydney Harris
++++++++++++++++++++++
This article is written by Foras Aje, an independent researcher and author of "Fitness: Inside and out", which provides tips on how to improve and maintain your health using all natural methods. For more information on these guidelines: