The Bible's take on Cigarettes
Okay, most people will agree that the Bible wouldn't want us partaking in illegal drugs like Marijuana, Heroin, Cocaine etc but…
What about smoking cigarettes?
Well, the Bible gives five reasons why the use of tobacco is displeasing to God:
A. The use of tobacco injures health and defiles the body. "Know ye not that ye are the temple of God, and that the Spirit of God dwelleth in you? If any man defile the temple of God, him shall God destroy; for the temple of God is holy, which temple ye are." 1 Corinthians 3:16, 17.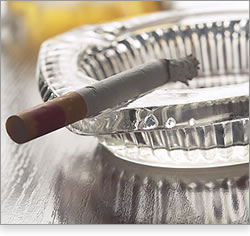 B. Nicotine is an addictive substance to which people can become enslaved. Romans 6:16 says that we become servants to whomever (or whatever) we yield ourselves. Tobacco users are servants of nicotine. Jesus says, "Thou shalt worship the Lord thy God, and him only shalt thou serve." Matthew 4:10.
C. The tobacco habit is unclean. "Come out from among them, and be ye separate, saith the Lord, and touch not the unclean thing; and I will receive you." 2 Corinthians 6:17.
D. The use of tobacco is a waste of money. "Why do you spend money for what is not food, And your wages for what does not satisfy? Listen carefully to Me, and eat what is good, And delight yourself in abundance" Isaiah 55:2.
This verse says a lot, really. Suffice it to say that this verse does not only apply to tobacco, but a lot of things that we spend our money on!
E. The use of tobacco shortens life. Recent scientific findings confirm the fact that the use of tobacco often shortens the life span by as much as one-third. This breaks God's command against killing (Exodus 20:13). Even though it is slow murder, it is still murder and suicide.
So, let's make think twice and be sure to make wise decisions when it comes to cigarette use.
Besides, even if the Bible didn't or doesn't mention tobacco per se, the surgeon's warning on the box should be enough to make us as discerning children of God know what to do. Which I to not smoke cigarettes!
Here's to Great Health,
Foras Aje is an independent researcher and author of "Fitness: Inside and Out", a book on improving physical and mental health naturally with a Bible-Based Diet and Exercise. For more information on this book or other natural health tips, visit his site at http://www.bodyhealthsoul.com/
Keep on going and the chances are you will stumble on something, perhaps when you are least expecting it. I have never heard of anyone stumbling on something sitting down.
– Charles F. Kettering, Engineer and Inventor
+++++++++
This article is written by Foras Aje, an independent researcher and author of "Fitness: Inside and out", which provides tips on how to improve and maintain your health using all natural methods. For more information on these guidelines: