Scientific Evidence About The Risks Of Eating Unclean Foods (part 2)
It is worth mentioning that it is a well-established scientific fact that the flesh of pigs and shellfish pose special infection risks to humans.
If 15% of Americans are infested with trichina as a direct result of eating pork, one wonders how many unexplained cases of "cardiac or respiratory" problems could be a result of trichina infestations.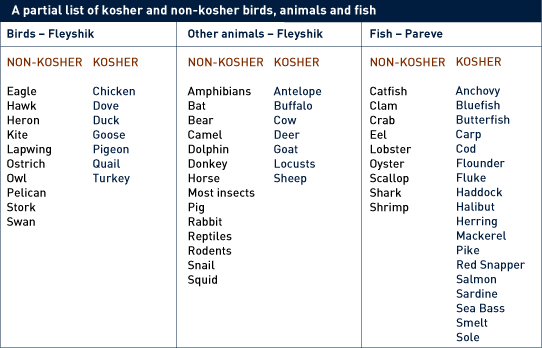 In addition one has to wonder how many cases of inexplicable diarrhea or vomiting linked to consuming mysterious "bugs" could actually be caused by eating shellfish .
Furthermore, it should be noted that while the health risks of eating pork, shellfish and other unclean animals are so well known that they deserve their own listings in encyclopedias, there are no such special diseases inherent within Biblically clean foods-when they are consumed the right way that is.
At this time, although I do not eat any animal flesh-simply because I don't feel like doing all the work that goes into it and for obvious health reasons, I had to wonder how God permitted the consumption of clean meat but not of the fat and apparently after doing a search for it online, I found out that in the flesh of clean animals such as cattle, lamb etc the fat is found almost exclusively outside of the flesh.
There is scientific proof that shows that the fat and blood of an unclean animal cannot be separated from its flesh. Therefore, suffice it to say that means it is impossible to eat the flesh of unclean animals without consuming their inherent fat and blood.
Take a look at Leviticus 3: 17 again "You must never eat any fat or blood. This is a permanent law for you, and it must be observed from generation to generation, wherever you live."
Do you notice the keywords: "PERMANENT" "GENERATION TO GENERATION"…?
Isn't it clear that God has made this law permanent? So, if there is scientific proof that fat and blood cannot be removed from the flesh of unclean animals, how then is it possible that the "law has changed or has been nailed to the cross after the death and resurrection of the messiah?"
Take a look at a slab of beef sitting uncooked in a store, the red flesh is surrounded with an obvious layer of visible, off-white fat which can easily be removed and avoided. However, this is NOT the case with pork.
A major portion of the fat in pork, however, is not isolated from the meat. Much fat is dispersed throughout the meat inside the meat cells intracellularly making it basically impossible to trim all of it away according to Don Colbert, M.D. (What Would Jesus Eat?, 2002, pages 49-50)
In his work titled: the adverse influence of pork consumption on health as appeared  in biological therapy vol.1 no. 2 1983, Professor hans-heinrich reckeweg, m.d. stated:
Pork does contain an enormous amount of fat, even the so-called "lean pork", in contrast to other types of meat such as beef, lamb, etc. Pork contains much intra-cellular fat or particles of fat inside the cells themselves, while in other animals, the fat is found almost exclusively outside these cells in the connective tissues, in the form of fat cells. Occasionally in aged beef, it is possible to find small amounts of fat in the cells themselves, while in pork, the cells have generally a high percentage of fatty particles. This can, for example be seen when even "lean pork" is fried. It immediately releases fat in a hot frying pan and is usually fried "in its own fat".
That being said, in addition to all the toxins inherent in the pig due to its scavenging nature, those who consume pork are bound to experience an eventual (sometimes immediate) sickness and disease.
It must be reiterated that the verse in Eccl 7: 29 : (But I did find this: God created people to be virtuous, but they have each turned to follow their own downward path.) applies very much so to the areas of health and well-being as it doesn't take a genius to realize that there are so many man-made and artificial chemicals and toxins in our present world.
Moreover, almost everyone (especially in so called 'advanced' countries is exposed to these pollutants on some level at all times.
"Foods that affect our health adversely and are even deadly and fatal are now being seen as the standard so perhaps now more than ever, to save our own selves, relatives, friends and all loved ones, the necessity for us to eat the best and purest of foods as much as possible is truly at its peak.
Now that we have covered this part of the article, let's go over to the third installment.
Foras Aje is an independent researcher and author of "Fitness: Inside and Out", a book on improving physical and mental health naturally with a Bible-Based Diet and Exercise. For more information on this book or other natural health tips, visit his site at http://www.bodyhealthsoul.com/
"Strength does not come from winning. Your struggles develop your strengths. When you go through hardships and decide not to surrender, that is strength."–Arnold Schwarzenegger
++++++++++++++++++++++
This article is written by Foras Aje, an independent researcher and author of "Fitness: Inside and out", which provides tips on how to improve and maintain your health using all natural methods. For more information on these guidelines: