Recipes for Quick, Healthy and Tasty Soups
Soups:
These are great winter foods and they can be served at room temperature or slightly warmed for under 1-2 minutes on mid level of a stove. In smaller quantities they can serve as dressings.
Tom-Avo
-2 organic Roma or Hot House tomatoes
-2 big Avocadoes (pitted)
-2 tsp orange juice (freshly squeezed) 2 oz of water
Blend all of this adding the avocadoes last.
You may add 3/4 tsp of un-iodized sea-salt for taste (best unheated)
Serving Suggestion: Chop some Red Cabbage say a cup or less finely and sprinkle into the soup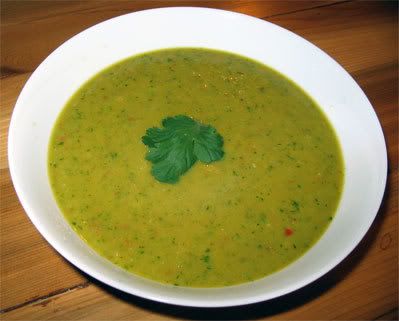 =====================================
Mr. Zucchini Zeal
-2 medium sized zucchinis
-2 avocadoes
-1 stalk of celery
-1tbs of Dulse flakes
-1/2-1 tsp of sea-salt
You can serve this slightly warmed for a mild and feeling treat, it is wonderful as a first meal after a fast. (For the adventurous Boil Very ripe Plantains in drinking water for 20-25 minutes or until the skin disintegrates, then mash the plantains and use a dipping vegetable when Mr. Z is served warm, or raw carrots when Mr. Z is served unheated…
=========================================
Okra Ovation
-This is a basic African soup
-2-3 okras (chop the tops off)
-2 avocadoes
-1/2 tomato
-1/2 tsp of salt
Blend all to a desired consistency, starting with the tomato
Heat this up till it starts to bubble like custard. You can have this alone or with say 1-2 cups of boiled rice with the recipe listed below.
In Friendship.
FEATURED VIDEO: PACE Fitness Exercise – Instep Touches AKA Windmills
"Strength does not come from winning. Your struggles develop your strengths. When you go through hardships and decide not to surrender, that is strength."–Arnold Schwarzenegger
++++++++++++++++++++++
This article is written by Foras Aje, an independent researcher and author of "Fitness: Inside and out", which provides tips on how to improve and maintain your health using all natural methods. For more information on these guidelines:

NOTE TO READERS: This is a segment from the Recipes Chapter of our eBook (Fitness:Inside and Out). To get a clear understanding of some other requirements (condiments, additional advice etc) and procedures that go along with this particular recipe, feel free to click on its "original source here."
Thanks,

The Bodyhealthsoul Team
================================================