Just How Important Is Sleep? (Part 1)
The noted hygienist, Herbert Shelton once stated that "The Mode of living in this era produces such a waste of power and such a sense of weariness that only the limited few ever know the supreme delights and the enviable luxury of power in reserve. They keep up their semblance of vigor by means of stimulation and seldom take sufficient time to re-charge their vital or nervous batteries."
Herbert Macgolfin Shelton (6 October 1895–1 January 1985), by the way, was an American alternative medicine advocate, author, pacifist, vegetarian, unlicensed doctor, and supporter of raw foodism and fasting.
Suffice it so say, he was so right as even the bibles supports Shelton's observation in the following verses about the necessity of sufficient and adequate sleep.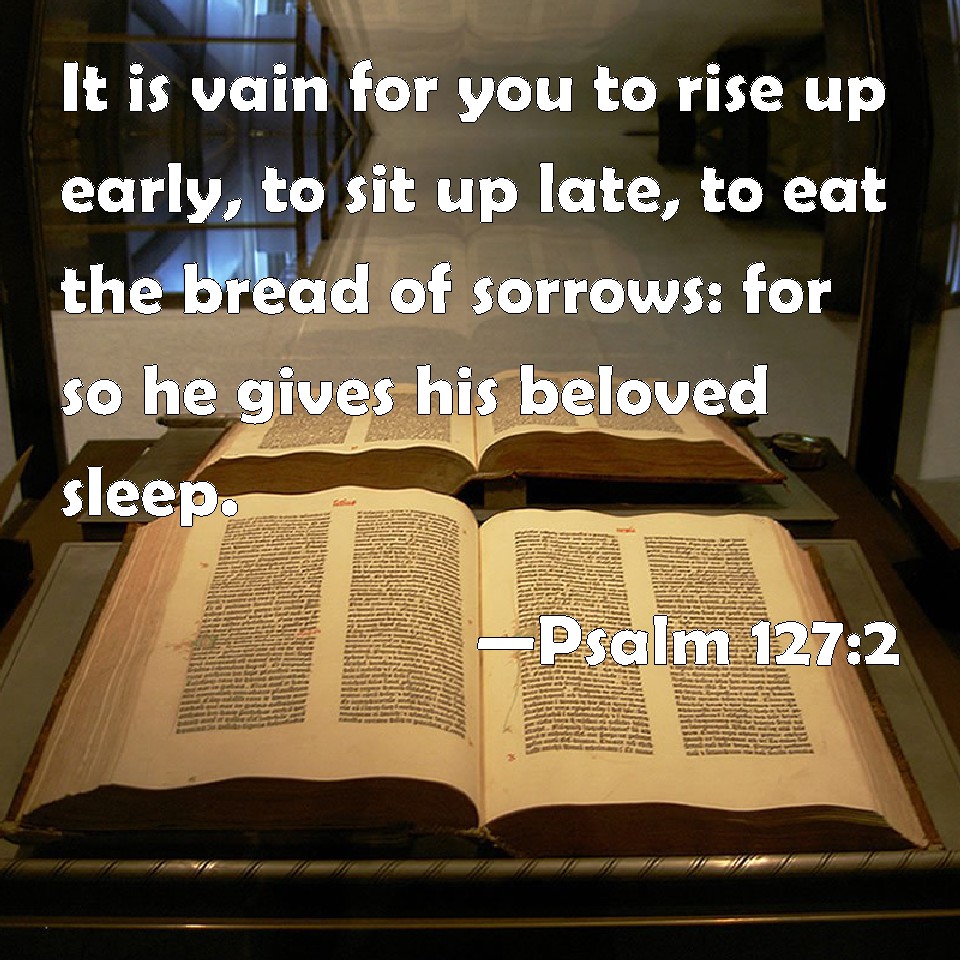 Psalm 127:2 "It is useless for you to work so hard from early morning until late at night, anxiously working for food to eat; for God gives rest to his loved ones."
Ecclesiastes 2:23 All his days his work is pain and grief; even at night his mind does not rest. This too is meaningless.
Now, is this a license to just be idle and sleep all day and not work with wisdom to be able to live? Of course not, remember the following verses in the Bible.
Ecclesiastes 5:12 THE SLEEP OF A LABORER IS SWEET, whether he eats little or much, but the abundance of a rich man permits him no sleep.
Proverbs 19:15 Laziness brings on deep sleep, and the shiftless man goes hungry.
Proverbs 20:13 Do not love sleep or you will grow poor; stay awake and you will have food to spare.
Therefore, we just have to find the balance as with all things. However, one fundamental truth in regards to our health is that sleep is essential.
Now we all know that one of the necessary things needed to keep an automobile in good condition is cooling the engine when it gets hot.
Well, the same principle applies to the human body. When the body and mind are constantly overworked, their efficiency in performing their duties diminishes. Modern social life, food, work and even play make it difficult for the modern man to relax.
However, an observance of nature will show us that animals love to rest and sleep. They get as much sleep as they want.
Furthermore, it is noteworthy that young animals and humans need more sleep than older and mature ones, however it is also good for the elderly to get sufficient sleep. This also holds true if you engage in intense physical activities and training as rest and sleep are essential to recharge our nervous energy.
As great as it is to work hard (albeit smartly) and to play (even as adults), it should be noted that these two activities put demands on the body that siphon it of its inherent energy and also produce metabolic wastes, so rest and sleep are the only elements that recharge these batteries and allow for the adequate removal of wastes-of course working hand in hand with a proper diet. Our physical, emotional and mental balance depends on the quantity and quality of these vital necessities.  They are the only things that recharge these batteries and allow for the proper elimination of metabolic wastes since energy is often expended even unconsciously just like a faucet that constantly drips.
See you in part 2 of this series.
Foras Aje is an independent researcher and author of "Fitness: Inside and Out", a book on improving physical and mental health naturally with a Bible-Based Diet and Exercise. For more information on this book or other natural health tips, visit his site at http://www.bodyhealthsoul.com/
FEATURED VIDEO: Just How Important Is Sleep
"When I hear somebody sigh, 'Life is hard,' I am always tempted to ask, 'Compared to what?'"- Sydney Harris
++++++++++++++++++++++
This article is written by Foras Aje, an independent researcher and author of "Fitness: Inside and out", which provides tips on how to improve and maintain your health using all natural methods. For more information on these guidelines: