Okay, folks, I have been doing yoga as of the time of this writing (03/03/10) for a little over 8 years now, BUT I just started doing the headstand about a year ago.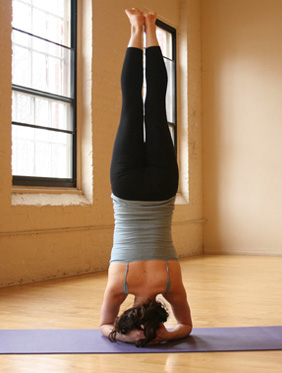 Why?
I don't know, I guess, the fear of standing on my neck was one, but more so, like with all other poses that I picked up with ease, this actually took me hiring an instructor to spot me.
Still, I will be the first to say, once I got the mechanics of the headstand down, it pretty much came easy (and easier with time) as I practiced it.
Folks, it should be stressed that the headstand and shoulderstand are two poses that belong to a specific group of yoga poses known as Inversions.
And as the name suggests, when the poses are executed, you are basically positioned upside down and generally, these practices improve health, reduce anxiety and stress and increase self-confidence.
Before we go any further, I must stress that for expectant and menstruating women…IT IS HIGHLY RECOMMENDED THAT YOU DO NOT PERFORM INVERSIONS!!
That said, let's go over the Yoga headstand aka Sirsasana.
Headstand is referred to as the king of all poses, while shoulder stand is referred to as queen of all poses.
Most yoga 'gurus' say the headstand develops the masculine qualities in humans. These qualities are said to include
-Will power
-Sharpness of the Brain
-Clarity of Thought
On the other side, the Shoulder-stand is said to develop the feminine qualities in humans said to include:
-Patience
-Peacefulness
-Emotional Stability.
Now, depending on what gender you may belong to, this is in no way saying for example that guys would be sharper thinkers than ladies, or on the flip side women are more emotionally stable than guys.
Quite the contrary, this is to say such masculine/feminine, hot/cold and ying/yang are inherent in all of us and could be developed as we mature as human beings depending on our living habits.
But coming back to the yoga poses, personally, I'm just glad that I can do both with ease and from practice I will tell you this; one (the headstand) heats you up (literally) while the other (the shoulder-stand) cools you down.
However, suffice it to say that when done in their right order, headstand before shoulder-stand (amidst counter poses) oh yes, in conjunction with the afore-mentioned sun salutations, that's truly a workout!
Now, in regards specifically to the headstand as being beneficial to the body, here are some key points apparent in its practice:
1. Practicing the headstand sends a very useful blood supply to the brain and stimulates the pituitary and pineal glands in this organ Needless to say, this rejuvenates the brain so that thinking power increases and thoughts become clearer.
2. Owing to the amount of focus necessary to hold the pose, the headstand stimulates the nervous system, increasing mental alertness and clarity
3. Now for actual fitness benefits, I challenge any so-called weight lifter to hold this pose for more than 5 minutes and tell me they didn't feel the necessity for immense endurance.
Folks, the headstand strengthens the spine, neck, shoulders and arms and the muscular system of the abdomen and legs are toned adequately in its practice.
Sounds like a lot for such a pose, well, what did you expect? It's the king of yoga poses folks and I'm sure glad I can do it.
Namaste,
# # #
"I've missed more than 9000 shots in my career. I've lost almost 300 games. 26 times, I've been trusted to take the game winning shot and missed. I've failed over and over and over again in my life. And that is why I succeed."
- Michael Jordan
==========================================
This article is written by Foras Aje, an independent researcher and author of "Fitness: Inside and out", which provides tips on how to improve and maintain your health using all natural methods. For more information on these guidelines: