Thus far we have discussed the Ananda, Anusara, Ashtanga and Bikram styles of Yoga, now we will go over some other styles that are commonly practiced.
e. Integral
This style of yoga was developed by Swami Satchidananda, the man who taught the crowds at the original Woodstock to chant "Om,"
Upon a closer inspection of the style, it is apparent that the classes put an equal amount of emphasis on breathing exercises and meditation as they do on the actual poses.
f. Iyengar
These days, virtually everyone seems to know who B.K.S. Iyengar is.
Suffice to say that he is indeed one of the best-known yoga teachers and the creator of one of the most popular styles of yoga in the world.
It should be noted that his style of yoga is noted for great attention to detail and the precise alignment of postures, as well as the use of props such as blocks and belts.
g. Kali Ray TriYoga
Folks, this style of Yoga was discovered by Kali Ray and it brings the poses, breath control and focus together with the use of mudras (finger positions)
h. Kripalu
This style has been reputed on several occasions for being the "yoga of consciousness."
This moniker may be due to the fact that in this style, a great deal of attention is given to proper breathing and alignment.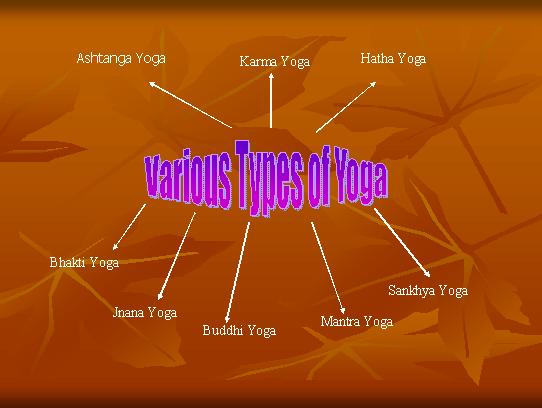 It is noteworthy of mention that there are three stages in Kripalu yoga:
-1st Stage: Focuses on learning the poses and exploring your bodies abilities.
-2nd Stage: Involves holding the poses for a long time, while simultaneously developing concentration and a sense of awareness.
-3rd Stage: Can be likened to a meditation in motion where the transition from one pose to the next happens naturally and with ease.
i. Kundalini
Based on the methods of the Yogi Bhajan, who introduced the style to the Western World in 1969, this particular style of Yoga places a lot of attention to the release of Kundalini Energy. According to famed gurus in yoga, this Kundalini is the natural energy of the Self, where Self is the universal consciousness (Paramatma) present in every being.
# # #
An obstacle is often a stepping stone.
- Prescott
++++++++++++++++++++++
This article is written by Foras Aje, an independent researcher and author of "Fitness: Inside and out", which provides tips on how to improve and maintain your health using all natural methods. For more information on these guidelines: