Here are 5 Health Tips From The Bible…
…that you can start to implement right now.
-A. Eat your meals at regular intervals, and do not use animal fat or blood.
"Eat in due season." Ecclesiates 10:17.
"It shall be a perpetual statute … that ye eat neither fat nor blood." Leviticus 3:17.
Note: Recent scientific studies have confirmed the fact that most heart attacks result from a high cholesterol level in the blood–and that the use of "fats" is largely responsible for this high level. It looks like the Lord knows what He is talking about after all, doesn't it?
-B. Don't overeat.
"Put a knife to thy throat, if thou be a man given to appetite." Proverbs 23:2. Overeating, especially the wrong foods is responsible for many degenerative diseases. I can tell you first hand, if and when you eat fruits and vegetables, it's next to impossible to over eat (when eating one fruit or vegetable at a time-the way it should be done ideally)
-C . Maintain a cheerful, happy disposition.
"A merry heart doeth good like a medicine." Proverbs 17:22.
- For as he thinks in his heart, so is he. Proverbs 23:7.
Many diseases from which people suffer are a result of mental depression. A cheerful, happy disposition imparts health and prolongs life. So working hand in hand with a proper diet, positive mental attunements also aid with improving our overall health.
-D. Let's Not Count Exercise Out
"A wise man is full of strength, and a man of knowledge increases his strength." Proverbs 24:5
"For physical training is of some value, but godliness has value for all things." 1 Timothy 4:8
Friends, Jesus Christ came to this earth not as a secluded and/or sedentary monk, but as a carpenter in an age without power tools so the Man had to have engaged in a lot of physically demanding work for exercise. In addition, He chose fisherman like Peter, Andrew, James and John, who did not have diesel-powered machines to haul in their nets while fishing, they had to do it all manually. Moreover, when Jesus called His first disciples to "follow" Him (Matthew 4:19; John 7:17; 11:54), this included walking hundreds of miles a year.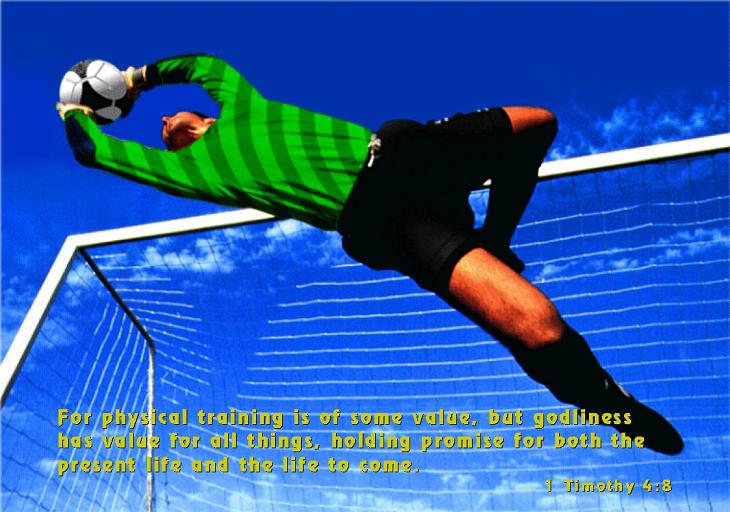 These examples show that a physically active lifestyle kept them healthy and provided stamina for completing their mission. Therefore, they should serve as a roadmap of sorts for us to be physically active and avoid a sedentary lifestyle as much as possible.
-E. Put full trust in the Lord.
"My son, attend to my words. … For they are life unto those that find them, and health to all their flesh." Proverbs 4:20-22.
Therefore, health comes from obedience to God's commands and from putting full trust in Him.
May God Richly Bless All of Us,
Foras Aje is an independent researcher and author of "Fitness: Inside and Out", a book on improving physical and mental health naturally with a Bible-Based Diet and Exercise. For more information on this book or other natural health tips, visit his site at http://www.bodyhealthsoul.com/
Losers visualize the penalties of failure. Winners visualize the rewards of success.
- Unknown
+++++++++
This article is written by Foras Aje, an independent researcher and author of "Fitness: Inside and out", which provides tips on how to improve and maintain your health using all natural methods. For more information on these guidelines: