Common Bible Verses That May Confuse Us About The Proper Diet 2
Dear Brethren, here's the continuation to this article on the above titled subject.
b.   Matthew 15:11 says, "Not that which goeth into the mouth defileth a man; but that which cometh out." How do you explain this? (Matthew 15:11)
The parallel passage to Mark 7 is Matthew 15.
Folks, after Jesus was done explaining that inner defilement of the mind is far worse than defilement of the body, he concluded,
Matthew 15:
16 "Are you still so dull?" Jesus asked them.
17 "Don't you see that whatever enters the mouth goes into the stomach and then out of the body?
18 But the things that come out of a person's mouth come from the heart, and these defile them.
19 For out of the heart come evil thoughts—murder, adultery, sexual immorality, theft, false testimony, slander.
20 These are what defile a person; BUT EATING WITH UNWASHED HANDS DOES NOT DEFILE THEM." (No where here does he say we can eat unclean meats…of course you can read this yourself and see.)
It should be noted that the Pharisees watched every word and movement Jesus made. When one reads the bible, it is apparent that they falsely accused him of breaking the Sabbath, and claimed that he blasphemed when he said JEHOVAH God was his Father, John 5:18.
However, not ONCE did any Jew accuse the Messiah of eating, or supporting the eating of, unclean meats.
No offense to anyone, again, when you read a verse in the Bible, it is best to read the whole Chapter to grasp the meaning of what it is all about.
Now, the subject in Matthew 15:1-20 is eating without first washing the hands (verse 2). The focus is not eating, but washing hands.
The scribes taught that eating any food without a special ceremonial washing defiled the eater.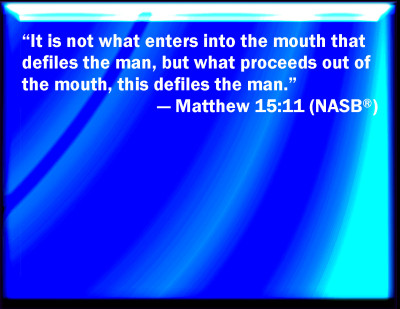 However, Jesus said the ceremonial washings were meaningless. In verse 19, He listed certain evils–murders, adulteries, thefts, etc. Then He concluded, "These are the things which defile a man: but to eat with unwashed hands defiles not a man." Verse 20.
Foras Aje is an independent researcher and author of "Fitness: Inside and Out", a book on improving physical and mental health naturally with a Bible-Based Diet and Exercise. For more information on this book or other natural health tips, visit his site at http://www.bodyhealthsoul.com/
FEATURED VIDEO: Side Plank Pose
"Talent is formed in solitude, character in the bustle of the world."
- Johann Wolfgang von Goethe
++++++++++++++++++++++
This article is written by Foras Aje, an independent researcher and author of "Fitness: Inside and out", which provides tips on how to improve and maintain your health using all natural methods. For more information on these guidelines: