How To Do The Yoga Headstand (Part 3)
By now you must have been doing the headstand with ease and comfort.
By now you must have realized that what you thought was impossible is indeed very possible and not intimidating at all.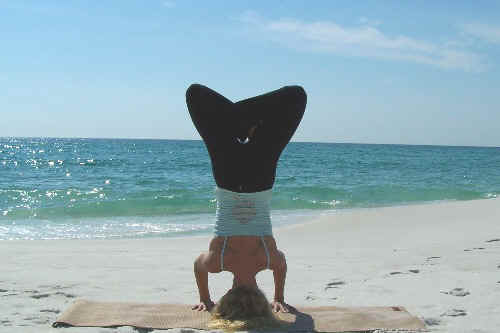 Great, now let's deal with coming out of the pose and it's counter poses.
Once your upper arms start to indicate signs of fatigue and before you begin to feel tired, separate the feet about a foot apart and UNDER SLOW CONTROL slowly lower you legs to you are in the afore-mentioned half headstand.
Now purposely engage your core by drawing your feet into your center and SLOWLY lower the toes to the floor.
Trust me, you don't want to slam your feet into the floor!
You should leave this Asana as carefully as you entered it. Do not move jerkily or quickly, or you may lose control and fall.
Now, ensuring that you literally roll your head from your scalp to your forehead (meaning some part of your head stays in contact with the mat), go into the afore-mentioned child's pose and rest for another 3 minutes with the eyes closed.
Now stand erect for a minute or two, (WITH THE EYES CLOSED) and the purpose of this is to harmonize the blood circulation.
From here, go into a corpse pose for THE SUM TOTAL OF THE TIME spent in the headstand, child's pose and mountain pose, meaning yes, if you did a 3 minute headstand, 3 minute child's pose and 2 minute Mountain pose, you would want to stay in the corpse pose for at least 8 minutes.
Folks, at this point, I will like to stress that the various schools of thoughts on yoga tend to differ in regards to the order of events here.
As in some say:
1. Child's Pose
2. Headstand
3. Child's Pose
4. Mountain Pose
5. Corpse Pose
While some say:
1. Child's Pose
2. Headstand
3. Mountain Pose
4. Corpse Pose
and yet,
1. Child's Pose
2. Headstand
3. Child's Pose
4. Corpse Pose
Now, I'll tell you my experiences with each.
First School:
Seems to work fine, I may at times feel a little tightness in my thighs, while executing the Child's Pose after the headstand but overall it seems a safe enough order of events.
Second School:
Well, it always made me literally smile, as of the time of this writing I have not done this order poses. But the sites that suggest the first school of thought seem to be adamant about a child's pose after the headstand.
What may be confusing is Vishnu-Devananda, in his book "The Complete Illustrated Book Of Yoga" directly suggests the second order of events, but the website based on his book "The Sivananda Om Page" says otherwise and some of his students whom I have contacted tend to say the same.
Third School:
A complete no, no.
I tried to go into the Shoulder-stand after my sequence of the headstand and right away my body indicated that something was wrong. How, my back was in terrible pain and I could barely hold a simple Shoulder-stand (which I have held for a record 30 minutes before) for over 3 minutes, so steer clear of this order friends.
Folks, I'd love to get really technical about the process, but if it's one thing I've learned from Yoga, it is YOUR OWN BODY is your best teacher.
Yes, the basics might apply to everyone, but owing to individual postures, alignments etc, after you have gained adequate proficiency an experience with the pose under supervision and watching tutorials (if it helps, you can search for my name "Foras Aje" on Youtube) learn to start to listen to yourself and your body.
Well, that about does it for the needed information on How To Do The Yoga HeadStand.
We'll cover the Shoulder-stand next in our series of inversion poses.
Namaste,
Foras Aje
# # #
Vision without action is daydream. Action without vision is nightmare.
- Japanese Proverb
+++++++++
This article is written by Foras Aje, an independent researcher and author of "Fitness: Inside and out", which provides tips on how to improve and maintain your health using all natural methods. For more information on these guidelines: