Nowadays, many theologians have stated that these biblical guidelines were not given for health reasons, but were merely practices designed to separate ancient Israelites from other peoples. Others teach that these instructions were for people living under the Old Covenant, and that Christians, under a New Covenant, are free to eat whatever they want.
If that were the case, why would God's plan have been (as stated in Deuteronomy 4:1–8), for the Israelites to eat a certain (and very healthy) way, in order to attract the whole world?
Moreover, why did early Christians such as St. Peter still adhere to these very practical and efficient rules for health as Peter did aptly state in Acts 10:14 that he has never eaten anything impure.
These widely accepted ideas about Old Testament versus New Testament laws are arguably based on ignorance. Suffice it to say that most church leaders do not have a lot of knowledge about biology, ecology, microbiology, parasitology, epidemiology or public health, however knowledge of these fields show the scientific accuracy and wisdom behind the laws about clean and unclean foods.
When God illustrated which animals were clean in comparison to those which weren't and explicitly instructed that the latter category be avoided, it was because of the following facts.
1. Some unclean animals are scavengers (e.g. pigs, snails, crabs, lobsters and gulls); their ecological role is to devour dead plants or animals.
2. Other unclean animals are filter feeders (e.g. catfish, clams and oysters); their ecological role is to purify water in lakes, streams and estuaries.
3. Other unclean animals are predators (e.g. lions, snakes and alligators); their ecological role is to manage the size and health of other animal populations.
Looking at these groups of animals and with the application of common sense, one can see that there are very important ecological reasons why the unclean animals God created are not to serve as food for human beings. God designed them for another purpose obviously or better still, after the fall of man, these animals no longer were to eat grass like animals were supposed to according to Genesis 1:30 which says: "And I have given every green plant as food for all the wild animals, the birds in the sky, and the small animals that scurry along the ground—everything that has life." And that is what happened."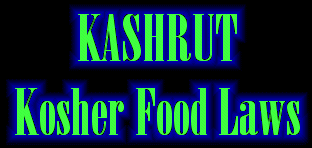 Obviously, till the millennial reign is in effect (as is described in Isaiah 65: 24-25) and things return back to His original plan, God has assigned certain animals to do certain tasks, therefore, in His wisdom and for our own good, He knows which animals which we may eat if we have to eat meat anyway.
Here's to Great Health and happiness.
Foras Aje is an independent researcher and author of "Fitness: Inside and Out", a book on improving physical and mental health naturally with a Bible-Based Diet and Exercise. For more information on this book or other natural health tips, visit his site at http://www.bodyhealthsoul.com/
"Your time is limited, don't waste it living someone else's life. Don't be trapped by dogma, which is living the result of other people's thinking. Don't let the noise of other's opinion drowned your own inner voice. And most important, have the courage to follow your heart and intuition, they somehow already know what you truly want to become. Everything else is secondary."–Steve Jobs
++++++++++++++++++++++
This article is written by Foras Aje, an independent researcher and author of "Fitness: Inside and out", which provides tips on how to improve and maintain your health using all natural methods. For more information on these guidelines: